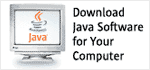 The materials on this page are provided by the Spec Lead of this JSR for evaluation and feedback.
These materials are not final, and are subject to change as the JSR progresses through the process.



Note: all dates are in YYYY-MM-DD format.

Requirements agreed upon 2004-03-26.

API proposals were due 2004-04-20.

Nokia's API proposal (the only one submitted) is the basis for the Community Review Draft / Early Draft.

Plan to enter CR on week starting 2004-05-31.

Processed EG members' comments to the API proposal. Revision 0.2 of CR draft posted to EG on 2004-05-05.

Early Draft v0.3 posted to EG on 2004-05-24. Candidate for submission to Early Draft Review, deadline for approval 2004-05-31.

Early Draft v0.4 submitted to EDR on 2004-06-02 with open issues list.

Early Draft Review started on 2004-06-16, 30 days (ends 2004-07-17). The ED spec is available from the public JSR page.

The Early Draft Review period has expired. Comments received are being discussed by the Expert Group.

Version 0.7 submitted to the JCP PMO for Public Review.

The Public Review started on 2004-10-29, ends 2004-12-06. The PR draft (v0.7) is available from the public JSR page. The PR ballot starts on 2004-11-30.

2004-11-29: Target is to submit Proposed Final Draft to PMO before end of 2004.

2004-12-09: The Public Review has ended, PR Ballot was accepted. Working towards the Proposed Final Draft.