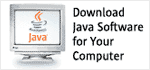 The materials on this page are provided by the Maintenance Lead of this JSR for evaluation and feedback.
These materials are not final, and are subject to change as the JSR progresses through the process.



Expert Group kick-off meeting held 18-19 May 2005 in Helsinki. Processed initial high-level requirements proposal.

August 2005 - planned milestones:
Early Draft Review - by end of Q3/2005
Public Review - by end of Q1/2006
Final Release - by end of Q2/2006
2005-08-19: Draft of specification released to EG. Working towards EDR with weekly drafts.
2005-10-12: Early Draft Review started, will run until 2005-11-11. Expert Group now closed for nominations.
2006-05-09: Public Review started.
January 2006: Expert Group face-to-face meeting in Copenhagen, Denmark.
May 2006: Updated, planned milestones:
May-June 2006: Public Review
August-September 2006: Proposed Final Draft
September-October 2006: Final Approval Ballot
June 2006: Public Review (draft v0.12)