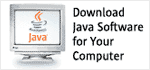 The materials on this page are provided by the Spec Lead of this JSR for evaluation and feedback.
These materials are not final, and are subject to change as the JSR progresses through the process.

Compatible Implementations
List of compatible implementations

 

News about JSR-299 is available here:

http://in.relation.to/Bloggers/GavinsBlog/Tag/Contexts+and+Dependency+Injection

The Proposed Final Draft has already been submitted, and a final release of JSR-299 is planned for August.

The RI and TCK are being developed here:

http://www.seamframework.org/WebBeans

Issues may be submitted here:

http://jira.jboss.org/jira/browse/WBRI

The comments alias is jsr-299-comments@jcp.org.