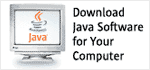 The materials on this page are provided by the Spec Lead of this JSR for evaluation and feedback.
These materials are not final, and are subject to change as the JSR progresses through the process.

Transparency survey, August 2009:

We are planning to use java.net as collaboration tool for the expert group. We have set up a project (https://jsr325-ice.dev.java.net/) and added project description, contact adresses, license and source code for the API in the subversion repository. This project will be private, used by the EG only.

We are currently making use of the jcp-mailing lists for EG communication.

We will be using java.net for regulary publishing drafts of the API and other documents to the EG, using the forum for discussions and the issue tracker for comments on the API.