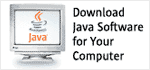 The materials on this page are provided by the Spec Lead of this JSR for evaluation and feedback.
These materials are not final, and are subject to change as the JSR progresses through the process.



This JSR is being run as a java.net project in order to provide greater transparency to the community.

The email archives for this JSR can be viewed at http://java.net/projects/ejb-spec.

To receive emails directly, please sign up as a java.net member at https://java.net/people/new, then
click the "Join This Project" link on http://java.net/projects/ejb-spec to join the project as an Observer.

Observers of the project can subscribe to the users@ejb-spec.java.net email list.
This list is a reflector for the expert group email list (jsr345-experts@ejb-spec.java.net)
and receives all emails that are sent to the experts list. It can also be used for community
discussion related to the JSR.

Recommended Areas for Providing Feedback

Feature requests - you can file RFEs in JIRA. It would be the best if such an RFE contains a strawman of the proposal and the reason(s) on why it is a useful feature.
Go over the open (and closed, but not fixed) JIRAs and add comments (and votes) on what you think is very useful, or is very dangerous if added, and why.

Review the spec for bad or confusing descriptions or discrepancies, or unnecessary duplications in the specification. File bugs in JIRA (small/similar items can be combined).

Review the spec documents (remember - there are 2 of them) for typos (and file a JIRA bug if there are any).

Test the RI for old and new features - submit patches to the developer tests. Old (3.0 and earlier) validation was done via verifier so you need to install the verifier and test 'asadmin deploy' with verifier enabled, not to start filing too many validation issues.
Subscribe and post your feedback to users@ejb-spec.java.net and follow the guidelines for visibility.

References for Getting Started