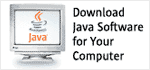 The materials on this page are provided by the Spec Lead of this JSR for evaluation and feedback.
These materials are not final, and are subject to change as the JSR progresses through the process.

Compatible Implementations
List of Compatible Implementations

Recommended Areas for Providing Feedback

Review the spec and javadoc for incorrect or confusing descriptions or discrepancies or typos in the latest spec, JSR 349. File issues in BVAL.
Test features in Reference Implementation in GlassFish. File issues and submit patches.

Applying Bean Validation constraints on parameters and return values of methods and constructors of a POJO
Specify validation constraints on JAX-RS
Group conversion with validation cascading

For any new feature requests, file issues in BVAL.
Post your feedback to beanvalidation-dev@lists.jboss.org.
References for Getting Started