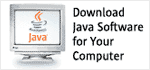 The materials on this page are provided by the Spec Lead of this JSR for evaluation and feedback.
These materials are not final, and are subject to change as the JSR progresses through the process.

Information for Adopt-a-JSR Participants

This JSR is in early stages and the information will be updated on a regular basis as the project develops. Some of the suggestions for feedback at this early stage include providing feedback on requirements, use case development, or commenting/voting on issues in our JIRA issue tracker. Please use 'adoptajsr' tag in the JIRA issue tracker. There are some other suggestions listed on the wiki page of the Adopt-a-JSR project.