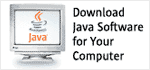 JSR #377
Desktop|Embedded Application API
JSR Renewal Ballot
Ballot duration: 2016-02-16 to: 2016-02-29



Special Vote Instructions:


The Specification Lead has provided this statement of intent to continue the JSR: "Development of the JSR-377 spec was successfully started in early 2015 and continued of to this date. Online discussions and face-to-face meetings have occurred during the whole year, this includes EG members and external contributors. A version of the current API design has been posted to the code repository. Still pending: posting updates to the specification documentation with more explanations of the overall design and reasoning behind each of the API's elements."


These are the final results of the JSR Renewal Ballot for JSR #377. The EC has approved this ballot.
Votes
EC

| | |
| --- | --- |
| Arm Limited | |

| | |
| --- | --- |
| Azul Systems, Inc. | |

| | |
| --- | --- |
| Credit Suisse | |

| | |
| --- | --- |
| Eclipse Foundation, Inc | |

| | |
| --- | --- |
| * Ericsson AB | |

| | |
| --- | --- |
| Fujitsu Limited | |

| | |
| --- | --- |
| Gemalto M2M GmbH | |

| | |
| --- | --- |
| Goldman Sachs & Co. | |

| | |
| --- | --- |
| Hazelcast | |

| | |
| --- | --- |
| Hewlett Packard Enterprise | |

| | |
| --- | --- |
| IBM | |

| | |
| --- | --- |
| Intel Corp. | |

| | |
| --- | --- |
| Keil, Werner | |

| | |
| --- | --- |
| London Java Community | |

| | |
| --- | --- |
| Magnusson Jr, Geir | |

| | |
| --- | --- |
| MicroDoc | |

| | |
| --- | --- |
| NXP Semiconductors | |

| | |
| --- | --- |
| Oracle | |

| | |
| --- | --- |
| Red Hat | |

| | |
| --- | --- |
| * SAP SE | |

| | |
| --- | --- |
| Software AG | |

| | |
| --- | --- |
| SouJava | |

| | |
| --- | --- |
| TOTVS | |

| | |
| --- | --- |
| Twitter, Inc. | |

| | |
| --- | --- |
| V2COM | |




Icon Legend
Yes
No
Abstain
Not voted

* EC Member : Voting rights have been suspended according to JCP 2.8
---
View Vote Log