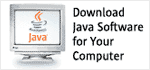 by Susan Mitchell


With happy dance music playing in the background, developers, vendors, service providers, and others interested in the Java Community Process (JCP) program gathered for the annual community event on Wednesday, May 9, 2007. It was held at the Westin Hotel in San Francisco, California, just around the corner from Moscone, where the JavaOne Conference had closed down for the night. It was neither the cool iPod speakers door prize nor the delicious sushi, lox, veggies, and kebabs that drew people from the four corners of the earth. Instead, the community gathered to hang out with fellow participants who are often only seen via email in normal times. The conversation flowed as freely as the wine among Expert Group members, Spec Leads, EC members, PMO staff, and press. Even Duke was compelled to show up and say hello to everyone.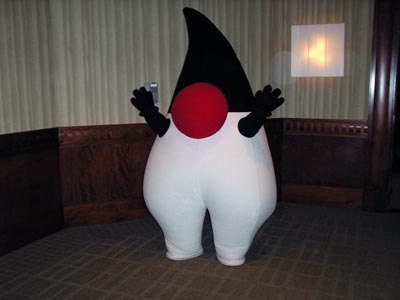 The high point of the night's formal agenda is always the announcement of the community awards. This year saw the introduction of a sixth award category to honor the JCP Participant of the Year, an individual member not representing a company or institution. We've come a long way, baby! It was just three years ago when JCP 2.6 did away with the membership fee for individuals and encouraged them to play a full role. This year, Wayne Carr, who serves on the Java Standard Edition (SE)/Enterprise Edition (EE) Executive Committee (EC), was the first-time winner of that award. For the traditional JCP Member of the Year award, Apache Software Foundation (ASF), also serving on the Java SE/EE EC, won for the second time, the first having occurred in 2005.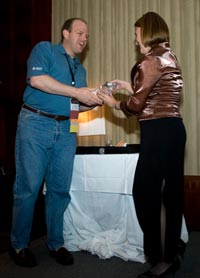 Geir Magnusson, who accepted the awards on behalf of the ASF as well as Wayne Carr, speculated that the ASF had won for two reasons. "Apache continues its broad and deep participation in the JCP program, serving in many Expert Groups, implementing many specs, and being in the EC. In those roles, we try to bring an open and transparent perspective to the process. While this may push people beyond their comfort zones, we believe it leads to healthy and constructive growth in the JCP program," says Geir. He added that Wayne deserved his award, too. "Wayne is very detail-oriented, very active in process and procedural issues. He is an active driver of the same values of openness and transparency as the ASF."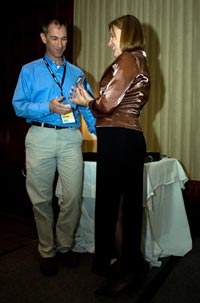 On the Java Micro Edition (ME) side, Mike Milikich of Motorola was pronounced Outstanding Spec Lead, primarily for his work on Java Specification Request (JSR) 271, Mobile Information Device Profile 3 (MIDP3). The Most Innovative JSR award was conferred upon JSR 307, Network Mobility and Mobile Data API, co-led by Star Spec Leads Eric Overtoom of Motorola and Mike Milikich. Mike felt honored to be selected as Outstanding Spec Lead. He says, "When I first got into standardization work, I was impressed with the intellect and drive of the Experts. Especially in the immense JSR 271 MIDP3 group, with its huge variety of participants, the real technical contributions come from the Expert Group itself, and I'm more of a facilitator or catalyst." He suggests that those who want to win this award in the future "should not be afraid to push people to the limits of their capabilities, because that's where real innovation occurs. People in the Expert Groups are gifted, and when you push them outside their comfort zone to bring out their best, you see what they're really capable of. Everyone knew from the outset that the MIDP3 project had difficult technical problems to address, but this group rose to the challenge." As co-Spec Lead, Mike also accepted the award for JSR 307, acknowledging that his work with MIDP3 keeps him so occupied that Eric actually carries a greater share of the load. Unlike MIDP3's very large group effort, the bulk of the 307 work is done by just a few people.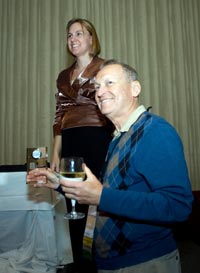 In the Java SE/EE category, Star Spec Lead Nasir Khan of BEA Systems took the award for Outstanding Spec Lead for his work on JSR 289, SIP Servlet v1.1. Ed Cobb, BEA's EC representative, commented that this win "is important to our product communication strategy perspective. We're pleased to be recognized for this." The Most Innovative JSR award went to JSR 308, Annotations on Java Types, co-led by Star Spec Lead Danny Coward of Sun and Spec Lead Michael Ernst. Accepting the award for JSR 308, Expert Group member Eugene Kuleshov commented that winning this award is exciting for the group. "JSR 308, an effort to complete what was started in JSR 175, has a relationship with just about all of the other annotations-related JSRs. We're doing our best to get this JSR into the Java platform. Allowing annotations to be used in more places will make annotations more expressive and more useful to programmers and to tools."

It was an exciting evening, and the JCP community has a lot to celebrate.