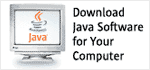 by Susan MItchell


The first day of the JavaOne 2008 conference proper, started off on a happy note. On the morning of Tuesday, May 6, I flowed into the keynote event held at the Moscone Center in San Francisco, California, riding on a wave of thousands. I hoped to hear Neil Young "rockin' in the free world." After numerous demos of the greatness of Java technology today, Neil was welcomed to the stage to showcase the Blu-Ray compilation of his life's work -- the ultimate multi-media scrapbook.

Ain't technology awesome? And to think that the Java Community Process (JCP) program is involved in the creation and standardization of Java solutions! Numerous Java Specification Requests (JSRs) have to do with multi-media capabilities, for example. It's enough to send chills up your spine.

All sorts of people are interested in helping extend the reach of Java technology by getting involved in the JCP community, which has grown in the past year. 1425 corporate members and more than 3900 active persons -- including numerous individuals who have no company backing them up -- are available to help with the development of Java Specification Requests (JSRs).

At the JCP pod on the Pavilion floor, positioned at the edge of a sea of techie booths, Liz Kiener and other Program Management Office (PMO) staff members entertained a stream of JCP members. They dropped by to say hello to a friendly face, attach a "JCP Program Member" yellow ribbon to their badge, and snitch copies of the JDJ magazine featuring an article by Patrick Curran, Chair of the JCP program.

While some of us trolled the Pavilion to see how many souvenir t-shirts we could take home (I acquired seven, and more were available), Spec Leads and Experts rallied from jetlag to raise awareness for their JSRs by making presentations - general sessions, BOFs, and panel discussions - at the conference.

Since the JavaOne conference is such an effective homing beacon for JCP members, Spec Leads take advantage of the once-a-year proximity with their Experts to get some face-to-face business done. At various points during the week, Expert Groups meet up the block from Moscone in a reserved conference room at the InterContinental Hotel.

For JCP members, the JavaOne conference is a groovy place to be.