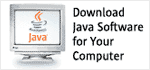 WHAT: The JCPSMProgram Management Office announced last night the winners of the 6th JCP Program Annual Awards. The awards ceremony took place at the Spec Leads Dinner organized by the JCP at the JavaOne Conference.

WHEN: May 6, 2008, 7:00 p.m. PST

WHERE: JavaOne Conference, Intercontinental Hotel, Fremont Room

The winners of the 2008 JCP Program Awards are:

Member of the Year
Apache Software Foundation (ASF)

Participant of the Year
Patrick Curran

Most Outstanding Spec Lead for Java SE/EE
Stefan Hepper for JSR 286, Portlet Specification 2.0

Most Innovative JSR for Java SE/EE
JSR 294, Improved Modularity Support in the Java Programming Language

Most Outstanding Spec Lead for Java ME
Jaana Majakangas for JSR 293, Location API 2.0

Most Innovative JSR for Java ME
JSR 290, Java Language and XML User Interface Markup Integration

The JCP introduced the Annual Awards six years ago to recognize excellence in Java standards development and innovation. Click here for more information about the awards categories and this year's nominees. Click here to learn about the previous editions' honorees.



About the JavaOne Conference
Located at Moscone Center in San Francisco, May 6-9, the annual JavaOne conference is one of the leading events for Java technology developers. Established in 1996, the Conference provides technology enthusiasts the opportunity to learn about the latest innovations with Java technology, scripting, open source, Web 2.0 and more. Developers get hands-on experience, can network with their peers and have the opportunity to interact with experts and industry leaders. For more information about the JavaOne conference, visit http://java.sun.com/javaone.



About Sun Microsystems, Inc.
Sun Microsystems develops the technologies that power the global marketplace. Guided by a singular vision -- "The Network is The Computer"(TM) -- Sun drives network participation through shared innovation, community development and open source leadership. Sun can be found in more than 100 countries and on the Web at http://sun.com.



FOR MORE INFORMATION CONTACT:

Corina Ulescu
JCP Program Office
Sun Microsystems, Inc.
408-276-6159
corina@jcp.org


Sun, Sun Microsystems, the Sun logo, Java, JCP, JavaOne and The Network Is The Computer are trademarks or registered trademarks of Sun Microsystems, Inc. in the United States and other countries.



. . . . . . . . . . . . . . . . . . . . . . . . . . . . . . . . . . . . . . . . . . . . . . . . . . . . . . . .