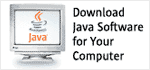 The materials on this page are provided by the Spec Lead of this JSR for evaluation and feedback.
These materials are not final, and are subject to change as the JSR progresses through the process.

Revised JSR Schedule
Public Review (PR): July 2007.
Proposed Final Draft (PFD): September 2007.
Final Release (FR): November 2007.


---
Community Update -4 Jan 30, 2007
The EDR is published and is available for download. Comments solicited.

---
Community Update -3 Jan 23, 2007
A forum has been setup to manage the discussions around the spec. Please feel free to join it.


---
Community Update -2 November 16, 2006

Due to a major internal rev of the spec working draft it is required to update the schedule for the JSR. Following is the latest schedule -

Early Draft Review (EDR): December 2006.
Public Review (PR): May 2007.
Proposed Final Draft (PFD): July 2007.
Final Release (FR): August 2007.


---
Community Update -1 June 23, 2006

The second expert group face to face meeting successfully concluded last week in Montpellier, France.

The EG is working on several proposals for the JSR289 specification in parallel. The work has been divided into small solution drafts around the problems/enhancements. In this EG meeting, wide ranging topics were discussed. The objective of this meeting was to discuss some drafts that were either very important or were somewhat unclear to the group. Also to discuss the schedule leading up to EDR.


After these two days of intensive deliberations the group has converged upon solutions around almost all the drafts discussed. The main topics discussed were -

Application Composition
SIP/HTTP/J2EE Convergence
Application Invocation and Servlet selection
Dialog support
Transparent B2BUA support
SIP Servlet annotations
Another thing that we agreed on was that we need a little more time before EDR to consolidate the drafts into EDR spec. The schedule for EDR spec submission from the EG shall be end of July and EDR phase is expected to last through August. The rest of the schedule has also been shifted by four weeks accordingly. The latest schedule is now updated on the JSR main page. At this time the EG is working towards the EDR Spec.
---