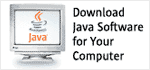 The JCP program holds the responsibility for the development of Java technology. As an open, inclusive organization of active members and non-member public input, it primarily guides the development and approval of Java technical specifications. Anyone can register and join the JCP and have a part in its process, and you don't even have to join to contribute as a public participant.

The work of the Java Community under the JCP program helps to ensure Java technology's standard of stability and cross-platform compatibility, enabling it to operate on hundreds of millions of devices, from desktop computers to consumer electronics to industrial robots.

Just as important, the JCP program continually grows the platform's specification portfolio to meet the emerging technology needs of developers and organizations globally who depend on Java technology.


Everything you need to know about submitting and reviewing Java Specification Requests, including all current requests, sorted by their stage in the review process.
Go to JSR Overview

If you haven't done so, register for the site, then login and create your personalized watch list, termed "My JSRs", participate in the message board discussions, review your profile and others participating under your JCP Membership (if you represent a JCP member) under "My Profile".





Stay on top of the latest changes that are shaping the JCP's technology, organization and procedures. View the latest JSR updates and the JCP program calendar.
Go to Updates


In detail, the procedures of the JCP are complex, but in general they follow a simple, time-proven path, of course, still open to revision. Three introductory pages may help you understand the process and answer your initial questions:

Timeline View Take a look at the overall schedule of events for the Java Specification Request (JSR) process
Glossary The JCP is built on a specific language of its own, and here are definitions to the terms you will need to know.
The JCP has gone through many revisions for improvement since its founding on December 8, 1998. The most current and important procedures for working with the JCP is available at The Java Community Process Program. The Java Community Process Program page is a good reference for anyone who plans to become a JCP Member and wants to review the process and procedures in detail. Go to JCP Procedures Overview

In the About JCP section there are also links to a current list of JCP program members, information on the Executive Committee (EC), the annual elections and the home of Programs & Awards.




Here are answers to the questions we receive most often.



Here you can find information for contacting the PMO: Go to the Contact us page.


Like to get involved? Anyone can join the JCP and have a part in its process, and you don't even have to join to contribute as a public participant. Here are the pages that will help you become a member of the JCP and register for the site.
Go to Participation Overview



Here you will find a collection of helpful documents and guides, including training, the Spec Lead Guide, JCP Datasheet, Whitepapers, the TCK Tools & Info, and multimedia content.
Go to List of Resources

Read the latest on What's Being Said about the JCP, catch this month's news in the JCP PMO Newsletter, read the Press Releases, News Stories, and Success Stories.
Go to Press Overview

For the press and analyst communities